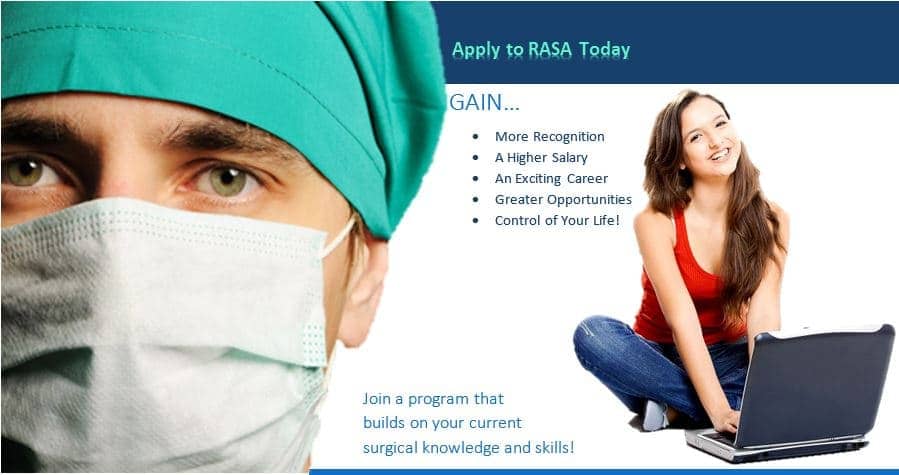 ST to SA Program Discount!
Take the next logical step in your career for only $2,995* or $495 down!
The only way to turn your dreams into reality is to schedule them for NOW!
We are offering a $500 tuition discount for new ST graduates. You just need to enroll in our SA program within six months of ST graduation.
Below is a summary of the program. You may may also download the full Catalog and Enrollment Application by clicking the links.
Eligibility: As an ST student you would be eligible to enroll in our SA program if you could get your ST instructor to sign our letter of recommendation (included in the back of the enrollment application)! As long as you have completed your basic science requirements, and possess a working knowledge of the ST role and OR fundamentals, you could begin the didactic home-study portion of our SA program. Why not keep the momentum going while the information is still fresh?
How do you learn surgical assisting with a total distance learning program?
Coursework: Basically, our program consists of 2 home-study Modules, followed by a clinical internship at your local facility. Module 1 covers everything in the operating that is not specific to the surgical specialties. Module 1 includes Surgical Assisting considerations, positioning, draping, infection control and anesthesia. It also includes our Wound Closure Training System. Module 2 covers surgical anatomy and considerations for all surgical specialties. It also walks the student through the first assisting steps of some of the more common surgeries in each specialty. There are references to videos of actual surgeries to augment your learning.
Clinical Internship: After completion of the coursework and mastering the suture and tying skills, students are cleared to begin their clinical internship at a facility of their choice. You would complete 135 cases as a surgical first assistant under the direct supervision of board-certified surgeons. Students choose their own surgeon preceptors, so you can choose ones that you already have developed a relationship with and that enjoy teaching. One of the benefits of our program is that although we teach you multi-specialty surgery, we do not require multi-specialty clinical rotations. You can complete all your cases in one (or more) specialties.
Wound Closure Training System: We will jump-start your learning (and fun) by sending you our Wound Closure Training System. It teaches you about wound anatomy, suture selection, basic through advanced suturing and tying surgical closure skills. You will even learn techniques for deep tying and multi-layer wound closure. If you know you will performing a complex suturing technique during an upcoming procedure, you can practice it on the simulated tissue before the case. The training system includes a simulated multi-layer tissue pad, a basic set of instruments and suture. Everything you need to start practicing wound closure!
What is the cost and when can I start?
Cost: If you enroll during the later part of your clinical internship, or within six months of your graduation date, you would be eligible for a $500 discount off our regular tuition. During this time the RASA SA program is only $2,995* (*if paid in full). Optional Payment Plan: If you choose the payment plan, the cost is only $495 down and 12 payments of $250. It's a little less than ST school right?
Program Length and Start Dates: RASA offers open enrollment, with start dates on the 1st of each month. This enables students to begin the program promptly after their application is approved. There are deadlines for each of the three Modules; however, you can complete the program as quickly as you wish without incurring additional fees.
RASA has some of the most superior training, materials and resources to offer the highest quality educational tools to non-MD allied health professionals. RASA graduates will feel confident and competent first assisting on surgical cases.
What does RASA's SA program lead to?

Certification and Program Approval: The program is approved through the American Board of Surgical Assistants (ABSA). Upon successful completion of the program, graduates are eligible to sit for the national Surgical Assistant-Certified (SA-C) exam. The SA-C is administered by the American Board of Surgical Assistants (www.ABSA.net).
We want you to succeed. Our team is are here for you when you need us, and we are here to provide the resources you need.
We are confident that our experience will move you to a successful Surgical Assisting career!